ADVENTURE RESPONSIBLY IN MAMMOTH LAKES
Commit to following sustainable, responsible tourism practices and help Mammoth Lakes continue to offer an endless supply of awe to visitors and locals alike.
Mammoth Lakes, and the surrounding Eastern Sierra, is an otherworldly adventureland worth protecting for future generations to experience. When you plan to visit, make a promise to treat Mammoth Lakes as if it were your own backyard, and hey, maybe leave it even better than you found it.
To learn more about how to travel sustainably and responsibly when you visit Mammoth Lakes, explore more below. These resources will help you become a better steward to the mountains and lakes, and even help you learn about proper recreation practices while at camp or in town.
Your first step towards more responsible recreation can be as simple as reading and signing the Mammoth Lakes Promise to ensure that everyone can experience our infinite moments of wonder for years to come.
Watch Videos About
Sustainable Travel in Mammoth Lakes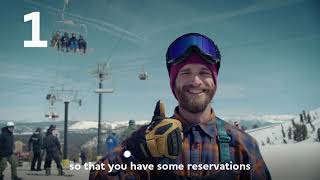 How to Practice
Sustainable Travel in Mammoth Lakes
Stories About
Giving Back in Mammoth Lakes